Most of our men's styles are made from Polycarbonate. This material is associated with sports or safety glasses. Savage uses it because it is light, strong and impact resistant. You'll also see some styles with a TR90 frame which is a virtually unbreakable, strong and flexible material.
The majority of the women's range of sunglasses are made of Cellulose Acetate Proportionate (CP). It is lightweight and can be adjusted by heat to obtain an even better fit. CP also allows Savage to produce our frames with a variety of colours & patterns within the frame. This means your beautiful patterned sunglass will keep its colour (unlike plastic which is only coated onto the outside of the frame). We also ensure the arms are reinforced for added strength.
All Savage sunglass frames are hypo-allergenic (no skin irritation associated with some plastic frames), are produced to withstand daily wear and tear and to fit with the comfort you'd expect from high-end optical eyewear.
All our lenses offer maximum UV & UVA  protection and meet the standards of AU, NZ, EU and USA. The majority are filter category 3 (see below). Please note the following: 1) Lenses should not be used for direct observation of the sun.     2) Not for protection against artificial light sources e.g. solaria, and
3) Not for use as eye protection against mechanical impact hazards.
See below for a list of specific technologies we adopt in the production of our sunglasses.
Polarised Revo Lenses
Revo was originally developed from NASA technology and is a mirror coating on the front of the lens. More than just a fashion statement, Revo lens sunglasses will give you exceptionally clear and sharp vision, less eye strain and is perfect for environments which have harsh sunlight and reflection – sailing, fishing, driving, skiing.
Polarised Lenses
Polarised lenses will cut out strong light, reflections & scattered light. You will experience a reduction in glare: meaning your eyes are more comfortable and you can see more clearly. Plus, they eliminate distortion and feelings of vertigo. All our polarised lenses are 1.1mm thick and made from TAC – ultra light and impact resistant.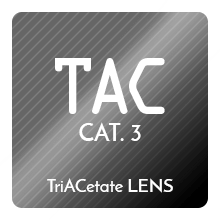 TAC Lenses
TAC is a multi layered lens that complies to all sunglass standards to fully protect your eyes. They are hard coated to resist scratching and can block out 99% of all harmful UV rays. They are lightweight and impact resistant. Please click on icon for more information.
UV Protection
All our lenses are Filter Category 3 sunglasses are general purpose, offering high protection against sunglare & good UV protection for your eyes. Please note that they are not suitable for driving at night or under dull conditions.
Polycarbonate Frames
Polycarbonate frames are light and strong, perfect for outdoor activities. The arms are reinforced with a metal core and the hinge is attached to this core.
CP Frames
The girls frames are made of Cellulose Acetate Proportionate. They have reinforced arms with a metal core and the hinge is attached to this core.
Rx-able Frames
Most of our Girls frames will take prescription lenses for convenience.
Soft Touch Frames
Some of our frames feature a soft touch top layer for added comfort.
TR90 Frames
TR90 is an amazing thermoplastic material that offers loads of superior qualities for your sunglasses. These frames are lightweight, sturdy & flexible whilst also being virtually unbreakable and long lasting. TR90 is also impact resistant and extremely comfortable due to its flexibility. In fact our TR90 frames are so lightweight & comfortable you might even forget you're wearing your sunnies!
Wooden Frames
Light, Stylish, Comfortable and good for the environment. Our hand-made wooden sunglasses are so comfortable and lightweight, in fact around 30% lighter than your average pair of sunglasses. Because wood is a natural living resource every pair of our sunglasses is non-toxic & hypo-allergenic.
Reinforced Arms
Certain frames have metal reinforced arms to give them extra strength and durability for sports and activities.